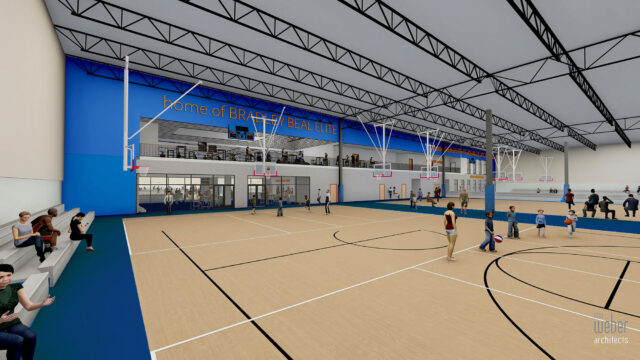 ST. LOUIS, MO – Bradley Beal Elite (BBE), the top ranked NIKE sponsored club in the Midwest with some of the best players in the nation, has committed to be the basketball tenant for Chesterfield Sports Complex. BBE develops elite male and female U13 to U17 basketball athletes for national exposure and college scholarships. Numerous athletes have gone on to play in USA Basketball, NIKE Elite 100, NCAA, NBA and overseas. The club will use the facility for practice and will host and play in regional and national tournaments at this new facility. Chesterfield Sports Association (CSA), a 501(c)(3) nonprofit organization, will own and operate the facility, which will fill a major need for court space in St. Louis. The Chesterfield Sports Complex, which is under construction in Chesterfield Valley, will open during the first quarter of 2023.
"We are incredibly excited to have one of the elite basketball clubs in the country, Bradley Beal Elite/St. Louis Eagles, as our basketball tenant. Chesterfield Sports Complex will now be home to both the region's top basketball club and top, elite volleyball club, High Performance," said Stuart Duncan, President of Chesterfield Sports Association. "Two nationally recognized clubs will help the complex attract regional and national competitions to put St. Louis and the State of Missouri on the map as a destination for basketball and volleyball tournaments."
"We are very much looking forward to working with the Chesterfield Sports Association, the local St. Louis community and Midwest region to maximize the potential of this amazing facility," said Tim Holloway, President of Bradley Beal Elite/St. Louis Eagles Basketball Club. "For years, we have forged great relationships with the local high schools and boys' and girls' clubs to facilitate our operations, so we look forward to having another great location to operate out of and expand our ability to service more youth and adults in the region and continue to grow the game and the young men and women in our organization. Let's FlyHigh!"
As St. Louis' first world-class, indoor volleyball and basketball complex, the multi-court, 97,000-square-foot sports complex will attract an estimated 900,000 visitors each year to its clinics, camps, leagues and tournaments. More than 1,000 youth athletes will practice and train during the week and over 2,500 athletes will play in league and tournament games each weekend.
A major economic driver, Chesterfield Sports Complex is projected to generate $3.6 million in local annual spending and 1,000 short-term and long-term jobs for construction workers, coaches, referees, trainers, concession and maintenance workers. CSA plans to host over 40 tournaments each year that will attract out-of-town guests to the area to generate economic activity for local restaurants, hotels and retail establishments. CSA expects these out-of-town players and families will generate over 10,000 hotel room nights per year.
"Not only will (Chesterfield Sports Complex) provide the much needed venue for youth volleyball and basketball, but will also have a positive economic impact when tournaments bring out of town visitors who presumably will be staying in hotels and frequenting restaurants, stores, and entertainment facilities," said Bob Nation, Mayor of the City of Chesterfield. "It is incredible that Chesterfield Sports Complex will be the largest indoor sports facility in St. Louis that will attract hundreds of thousands of visitors to a destination for national basketball and volleyball tournaments where elite athletes will play."
For information about partnership opportunities, visit www.chesterfieldsports.com or email info@chesterfieldsports.com. To follow the development, follow chesterfieldsports on Facebook, Instagram, LinkedIn and Twitter.
ABOUT BBE BASKETBALL CLUB
The St. Louis Eagles Basketball Club, now doing business as Bradley Beal Elite, was founded in 1988 by Rich Gray. Gray, a local businessman, wanted to enhance the national exposure afforded to the local basketball talent in the area and worked with Harold Bailey, Ron Golden, Bill Vollmar and Roy Pierce to elevate the level of play and platform on which to compete. Later in 1996, the St. Louis Eagles joined the NIKE Basketball family and participated in its inaugural Peach Basket (Jam) event where future NBA stars, Bradley Beal and Ben McLemore led the team to a 2nd place finish. Several hundred scholarships later, in 2017, the Eagles rebranded as Bradley Beal Elite. As a featured Nike EYBL Club, they have consistently stayed in the top national rankings and maintained the mission of seeking scholarship opportunities for all participants. The first St. Louis Lady Eagles team began in 2012 with 6th grade athletes who won the AAU National Championship in their first year. Four of those athletes have earned D1 scholarships.
ABOUT CHESTERFIELD SPORTS ASSOCIATION 
Founded in 2020, Chesterfield Sports Association (CSA) is a Chesterfield, MO-based 501(c)(3) non-profit organization that was formed to give St. Louis youth the opportunity to grow, develop, and reach their highest potential as an athlete, student and individual. Stuart Duncan formed CSA after more than 20 years as a volunteer coach, tournament director, and board member for various local sports organizations. His passion for youth sports and development drives his mission for this new sports complex.